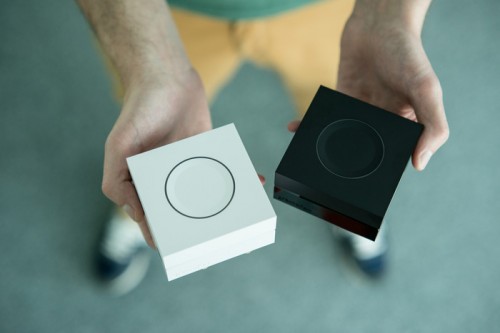 I am very happy to announce that Gramofon just went live on Kickstarter!
Gramofon is a new gadget category that blends WiFi and music. It has all the functionality of a Fonera but also works with Spotify to deliver the easiest way to play your cloud music from your existing sound system. On top of that it is social, so up to 20 people can connect via Facebook, and DJ simultaneously. Additionally, it works amazingly with other Gramofon units.
I decided to build this device about a year and a half ago because I found that there was no offering that allowed me to play cloud music in the way that I listen to music – socially and in my living room. I tried everything and wasn't satisfied with the solutions that were out there because they either made me buy an expensive new system, were expensive solutions to a simple problem, or were poor solutions and hacks.
We put together a prototype early last year in New York and Fon Labs has been working on the product out of Bilbao ever since. We worked with Bone and Black on the design and now have a beautiful device that is finally ready to be revealed to the world!
We wanted to first get it to the kind of people that supported Fon to begin with: the early adopters, the people who believe in the power of new technology. For this reason, we decided to launch on Kickstarter – a crowdsourced network of backers.
So please take a look at the page. I hope you love the Gramofon as much as I do!