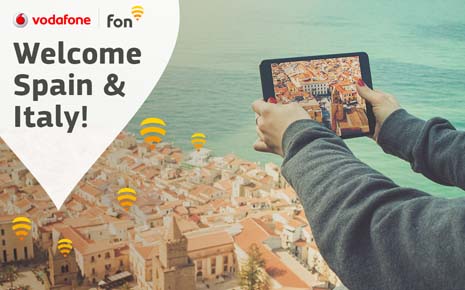 Today is a very special day for me and everyone else at Fon. I am happy to announce the Vodafone and Fon partnership, to expand the Fon network in Spain and Italy.
When I started this company 9 years ago, I was motivated by a problem I encountered on a trip to Paris. I desperately needed to use WiFi, but I could not find any open WiFi signals. So, I started Fon with a mission – to cover the world with accessible WiFi.
Since then, Fon has grown from that idea to the world's largest WiFi network. We have built that network together with leading telcos around the globe. Today, you   can find dense Fon WiFi coverage in most countries in Europe, Brazil, and Japan – and we recently announced the extension of our footprint to Australia.
We have been preparing the Vodafone-Fon partnership for a long time, and today I can proudly say that Spain will soon be covered with dense Vodafone-Fon WiFi. We will also finally cover Italy, a country that I love and have had close ties to since my youth.
This achievement is extremely gratifying, as I have fulfilled a promise I made to many loyal Foneros and Fon supporters.
It is an honor to welcome Vodafone to our network of partners. Vodafone has been leading innovation in telecommunications for decades. Working together with Vodafone on their WiFi strategy is a big step forward for Fon and for WiFi overall. Together we will continue to explore ways to expand our footprint further and work on an optimal interaction of LTE and WiFi.
Vodafone customers can also be excited. People need to be constantly connected whether at home or on the go. With the increasing data consumption of mobile devices, and rapid growth of WiFi only devices, ubiquitous WiFi becomes the perfect complement for 3G/4G!
I would like to thank the Fon team for their hard work in making this happen. Over many years, people at Fon have worked tirelessly on implementations all over the world. Though our technology is "made in Spain", employees had to go abroad to enjoy the fruits of their labor and see what it means to experience dense Fon WiFi coverage. That will change with extensive coverage at our doorstep.
Fon has almost 15 million WiFi hotspots globally. With Vodafone Italy and Spain, we will add more than 2 million hotspots before the end of the year. With this new partnership and the growth of our existing partnerships I am confident, that we will be able to reach 50M hotspots globally in few years.
Our mission remains. Vodafone-Fon takes us a huge step closer to blanketing the world with accessible WiFi.
Thanks for all of your support!