As you probably know, we have now begun shipping the Gramofon. After the amazing support we received when it was introduced on Kickstarter, we are now delivering the first units. Gramofon, as it is today, is a product for residential users who want to become Fon members, a product that improves their home WiFi coverage and of course, allows them to listen to their favorite online music on their existing stereo.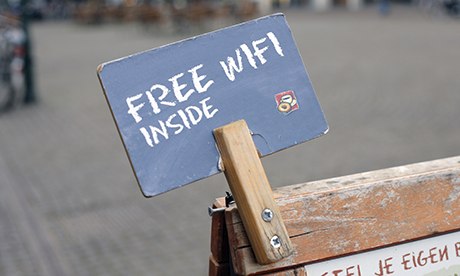 Today the good news are that in parallel we have also been working on a new flavor of Fon WiFi, that we are launching in Beta: WiFi for Business. It is a solution for small and medium businesses, whose owners want to give WiFi to their guests in the best possible way. We want to get rid of places that say "Free WiFi here" and then, when you want to get access, you need to ask for a complicated password written down somewhere on a piece of paper. And that is if you're lucky! If you're unlucky, they might not even remember the password. And others may just leave their personal WiFi signal open, putting their security at risk.
With WiFi for Business every store can offer WiFi in a professional and secure way. It's a fully customizable solution in which the owner of the place can easily design the look and feel of the guests' WiFi experience and decide how many minutes or hours guests are allowed to surf for free. They can also publish special offers on their WiFi landing page or gain followers advertising their Facebook page. All in the merchant's hands!
Guests can easily log in with Facebook or with a Fon account, allowing merchants to understand visitor demographics and compare between different locations. Of course this information is shared only with explicit consent from the user.
WiFi for Business is tailor-made for every business: bars, restaurants, dental offices, hairdressers, car repair shops, offices… every place where people come and wait!
Starting today in Beta, WiFi for Business is available through the new Fonera for Business. This router can be purchased at our shop at a special launch price. Soon, our telco partners will also distribute the solution to their business subscribers the same way Fon is rolled out to residential subscribers: embedded into their existing WiFi routers.
I expect that the "age of WiFi passwords on a piece of paper" is coming to an end, and I think that our WiFi for Business will be a big part of this trend.
(Photo: The Guardian)