Spain may break up. If it does it will be because Madrid has been deaf to the feelings of the Catalans. The Catalans signed a Constitution in 1978 that said that should they ever want to become independent all of Spain would have to agree. This was a big mistake on their part. Because there is no way independence will ever happen in this framework. If there was a vote now in of Spain around 80% of Spaniards would vote against Catalonian independence, but around of 54% of Catalans would vote in favor in a Catalonia-only vote, which is what they want to have this Nov 9th. This is partly out of their desire to be independent but also because Madrid has told them that they have to live by the 78 Constitution no matter what. That even if most of them dislike being part of Spain they have to stay in. In my view Madrid and the rest of Spain should allow the Catalans to vote for their independence but with time to win them over again. And in those years it should first negotiate the exact conditions of their independence, and then go on a charm offensive as the British did. Most likely during an improving economy. If the Catalans become independent they could be out of the EU, out of the euro, etc. There are so many unknowns that I think it is possible to win against independence by truly showing more cons than pros. Moreover the Catalan leadership has been incredibly corrupt. Jordi Pujol one of the biggest promoters of Catalonian nationalism and leader of Catalonia for many years has made a huge fortune for him and his family out of the Catalonian people. Catalan leaders have issued dangerous levels of local debt and Catalonia was recently saved from absolute bankruptcy by Spain. Catalonia, as opposed to the Basque region who diversified its industrial base, has followed economic policies that were as ill conceived as those of Madrid. Catalonia has based too much of its investment on infrastructure and debt, overextended its welfare state and has achieved slightly worse results than Madrid. But by forbidding debate on independence what Catalans see is the negative of staying together. And they do have a point when they argue that they, as well as Madrid, give too much of their income to the rest of Spain. But this is something that should be renegotiated all over Spain, setting limits on regional transfers and making some regions of Spain manage slightly more on their own. This is not a Catalan problem, it's a Spain problem. Both Madrid and Catalonia give around 8% of their GDP to Andalusia, Extremadura and so on and this should be modified. But as it stands, the existing Constitution is just not fair on the independence issue and will lead to civil disobedience. The Catalans may become independent in spite of the Constitution because the rest of Spain should not use military force to keep them in the Kingdom. Dialogue and showing the positives is the only valid unionist strategy. Personally I believe that Catalans have the right to be independent and as a Spaniard I see my objective that they choose not to do so, not that they are forced into the union. And I think there are enough valid reasons to stay united. It's time to change the slogan from "España a la fuerza" to "Juntos molamos" o "mejor juntos" – better together as the British said.
Related articles
I have simultaneously used an iPhone and an Android for many years. Two pockets, two phones, two carriers. Verizon Android and T-Mobile iPhone in the USA Tuenti iPhone and Vodafone Android in Europe. But for a long time, my favorite phones had been Androids. Until this month Androids could do many things that iPhones failed at. You had a wide choice of size and my favorite screen dimensions were around 5′ bigger than any iPhone. Sharing on Android was much better, you could share any service with any service, iPhone picked winners. Android allowed WiFi apps like our own Fon app, iPhone did not. Some phones like the Samsungs came with replaceable batteries and by 5pm every iPhone I had was dead. So were the Samsungs but I could change the battery. Lately Samsungs like the S5 became waterproof and that was awesome during the summer. And then there was SwiftKey, the multilanguage keyboard that read my mind (because it read my Gmail), the keyboard that could guess whatever word was coming next in whatever language, the keyboard that spared me from having to use that horrible language changing globe of the iPhone clearly designed by monolingual people. But I still carried iPhones. The iPhones I used for other reasons. One, a big one is design. They were always the best looking phones. I just liked them as objects. Video and photography, no matter what Android makers did, they could never beat the iPhone neither the photo apps nor the cameras. And games of course. So many more games and better games for the kids. In general almost every app looked better and worked better on the iPhone. But what good was all this if the iPhone would be too small to type in, would only work with one language at a time and its battery would die by 5pm?
Well I am here to report that my new iPhone 6 is the first phone since Android became competitive that beats any Android I now have. And currently I have an HTC M8, an S5, a Moto G, and a OnePlus One which is a very special yet buggy high end Android phone. Yes I am still hesitant about the non replaceable battery in the iPhone 6, I will have to test it will, see if I can last all day. But the iPhone 6 at 4.7in is the perfect size, it is incredibly beautiful, thin and light, it abandoned the "we are better keyboard dogma" and got SwiftKey, it allowed WiFi profiles that are almost as good as WiFi apps for Fon, it came with 128GB of memory so I can get a large supply of Spotify extreme quality songs and all the games for the kids they want. Before I used to always be on an app diet, especially with the apps for Leo (7) and Mia (3), games that take over 1GB each. Now we can app binge and then put them on a game diet, but with choice. And the iPhone 6 is far superior at video and photography. After the iPhone 6, iPhone it is now. Will continue to use Android and iPhone but my time on phone ratio will radically shift towards iOS. Having said this, I don't want to end without bringing a key factor here and that is cost. The iPhone costs $850. Yes $850 forget about those rip off offers with contracts, that is what it really costs, what Apple gets. And for $129 you get a an unlocked, no contract Moto E. A Moto E is not 15% of the phone an iPhone 6 is. If you, like most of humanity, are a person who lives on a budget, the Moto E is 80% of an iPhone 6 for 15% of the cost. What Android has that Apple never will, is the ability to bring 84% of humanity to the Internet. And for that we should thank Google. Even a low end iPhone costs 4x as much as a Moto E. And this is why iOS is only in 11% of all smartphones sold in the world right now. Moreover Android still rules at sharing, first it gives it OS at no cost to others and that is why their phones are so much more competitive, but also I love the way Android allows you to share from anything to anything. I find it impolite that Apple picks winners and losers by greatly limiting sharing among its preferred services.
Still even Google (trends) will tell you that with 11% global marketshare, iPhone is always more news than Android.
First my sincere apologies for the instruction manual that we have provided, we are improving it a great deal thanks to your feedback. In the meantime this is my simplest way to explain how to connect a Gramofon.
Then if you found this link after November 2014 don't go on reading, the Gramofon installation will be simpler by then. This is only for the beta units of the Kickstarter backers.
Take Gramofon out of the box.
Decide where you want to place it, you must have electricity and a sound system nearby. Ethernet or cable Internet is optional but if you have it use it as speeds will be better. Think of an Apple TV, in a way the Gramofon is like an Apple TV for sound and it connects via cable or WiFi like an Apple TV and it turns any sound system into a cloud music player just like an Apple TV turns any TV into an Apple TV video player.
Plug to electrical outlet and to sound system via the audio cable
If you have ethernet (cable that gives Internet) plug to ethernet, if not no worries the Gramofon also works via WiFi receiving and extending your wifi signal. Now one warning here, the Gramofon will extend the signal of any router that is not made by Fon. It will not extend the WiFi signal of a Fonera for example. It's an IP conflict problem and in this case to fix it you will have to be an advanced user.
Download the Fon Utility app, please make sure it is the Fon Utility app, yes I said Fon Utility app and I did not say Gramofon app, I also did not say Fon app. Fon has three apps but the one you need here is Fon Utility.
Connect to the WiFi signal Gramofonxxx with password that is written under the Gramofon, if you are over 40 get your reading glasses as font is small!
Open Fon Utility app and follow instructions in the app, the app is like an instruction manual, and it shows you how to personalize the Gramofon choose names, like GramofonBedroom or GramofonKitchen or whatever you want to name the Gramofon, the WiFi signal that comes out of the Gramofon and your favorite password. The app also takes you to Facebook so your friends do not need a password to play music and to use your WiFi because Facebook lets us know they are your friends. Last but not least the app via the registration process gives you a username and password to roam for free at 13.5 million hotspots around the world! So please go through this app from beginning to end. See how to do this by watching our instructional video here.
Once the Gramofon is configured and you are done with the Fon Utility app, close it
Open the Spotify app and choose your favorite song. Play it.
As the song starts playing in your phone, look for a gray circle and wait for it to turn green, a circle with a speaker sign on the bottom right of the screen, that will appear next to the song, click on the green circle and you will see the choice of playing the song either via your phone or via the Gramofon, click on Gramofon and enjoy your favorite song on your sound system. Here is another short video.
There is another way to play music, and that is the radio app Gramofon. For this:
Download the Gramofon app.
Provide the PIN that appears on the Gramofon itself as the app requests it. This PIN is on the side of the Gramofon together with the MAC.
Register with Facebook and start playing music with the Gramofon app. See how its done here.
At this point the Gramofon supports Spotify and Gramofon music provided by WahWah, in the future we will get more music services via All Play, click here to learn more about All Play.
And once again thank you thank you thank you Kickstarter backers, you are awesome.
Twitter used Twitter clients to grow and then combined their innovations and traffic with its own and dumped their clients. Awful but legal. I invested in one, Seesmic and lost my investment. Google used the Internet as a whole to grow and now it is evolving from a search engine to an answer provider. Weather, flights, Wikipedia type info, many searches are now not linked by Google but answered by Google. As a result sites that helped build Google are now losing traffic.  People don't just start at Google, they now start and end at Google. Google is not happy anymore with organizing the world's information, it wants to provide it. The US antitrust authorities are fine with this.  The EU not so, and is looking into this as a possible abuse of monopoly power.  The Economist this week has an article exactly on this issue and the view of many German companies.  One of them is Axel Springer whose board I serve on.  But then Google is also on my board at Fon. So in terms of disclosures I am somewhere in between. I also know both sides of the argument well.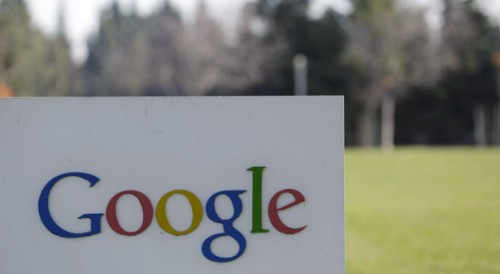 Personally I am hesitant on what the EU should do.  On one side Google built a de facto monopoly on search by linking to everyone else more accurately than others.  At that Google did an awesome job. Other search engines died or lost market share because Google is just better.  But is it fair to grow via say, Kayak or Expedia, and then replace them with your own flight search engine that comes as the top result even when it is not the top destination? This move certainly hurts Kayak and Expedia, but does it hurt consumers?  Monopolies are broken up because they hurt consumers. It is hard to argue that Google is hurting consumers by providing its answers directly and going to the same suppliers as Kayak and Expedia to get the information.  Especially when people prefer to get an answer rather than clicking again on a second link.  But aside from what is fair, one thing is clear: if you built a business by receiving traffic from Google you should rethink your strategy or you will end up like a Twitter client.  Aware of this, one company took a radical step and so far it paid off: Facebook. It stopped Google from searching it. It closed its content to Google's "crawlers". Unfortunately Facebook hasn't come up with a good search engine itself, and finding whatever you once wrote on Facebook is almost impossible.  So as a consumer I wish I could search my Facebook as easy as I search my Gmail, or the Internet as a whole.
And as far as being a monopoly, to me monopoly is something like Time Warner Cable, if you live in NYC and want Cable TV there's no other choice than Time Warner Cable. Search engines? There are others. Yahoo, Bing. Google is where it is not because somebody gave them a franchise, but because of how good it is, a position that Google has to defend every day. Would I watch Google if I was a regulator? For sure.  Would I stop them? Only if there is harm to consumers.
(Photo credit: The Nation)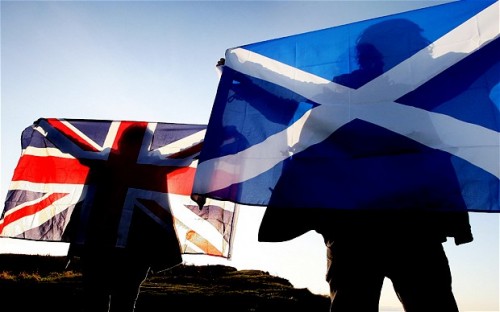 As I read that Scotland may become independent in 11 days, I realize that the English and the Castilians kingdoms have had a similar historical fate. Both first conquered, annexed or joined together nearby kingdoms and territories (via treaties/marriages) and became what is now Spain and UK. After that was accomplished, both then went overseas to conquer a remarkable chunk of the world. As a result English and Castilian Spanish became the two largest Western languages. So these two very small nations, the English and the Castilians had at one point incredible empires with what today would be half a billion people (Castilians) and over a billion people (England). In the late 1700s, and mostly during the 1800s and some remains in the 1900s, these colonial empires fell apart, to the point that what remained of the former glory was the original core Kingdoms of what today is UK and Spain.
But now, over 200 years after key colonies were lost, the early nearby unions, Scotland and Catalonia, may also become independent. Five or more centuries later the mighty kingdoms may go back to their humble origins. Why have the Germans have had such a tendency for reunification, and the British and Spaniards for fragmentation, could be the subject of many books. Probably it has something to do between what is seen as a union of equals vs an imposed culture. Or maybe it is a perception by the Scots and the Catalans of economic benefits to be obtained via independence. But whatever the motivations are, reality is that as of today, half of the Scottish want out and may get out of the UK on September 18th and a similar percentage of Catalans seem to want out. I am not sure how long the Kingdom of Spain will stay together under the framework of the 1978 Constitution. Personally, union or independence in both countries is fine with me, I can see both sides of the arguments. But what is not fine is to keep people in a union they don't want. Better to vote and see.
In the case of Catalonia, if there is a referendum, I would hope that it goes beyond a yes or no for independence. What is needed is a previous negotiation that would give more clarity to voters on key issues such as, would Catalonia be in the Euro or out, in the EU or out, what part of the Spanish national debt would it take with it, would it vote as a whole for independence or per province (if Spain is divisible, so should be Catalonia) and so on. I am in favor of a referendum in both cases, but with very clear visibility of what yes or no means the day after.
(Photo credit: The Telegraph)